The $10.7 billion nationwide initiative has connected more than 5.3 million students across the U.S., but the need remains high
With students around the country back in school, the lack of access to home internet remains an issue for millions of American kids.
According to a Dec. 2020 study from Common Sense Media, "up to 12 million K–12 students remain underconnected going into 2021." While this statistic represents the critical need for home internet access during COVID, the need continues today, despite a majority of students attending school in person. Students need home internet access for homework, online tutoring and remote class attendance throughout the year.
The divide worsens in rural communities. According to the Federal Communications Commission: "Rural students were twice as likely as urban students to report lacking adequate technology to complete their coursework during the pandemic."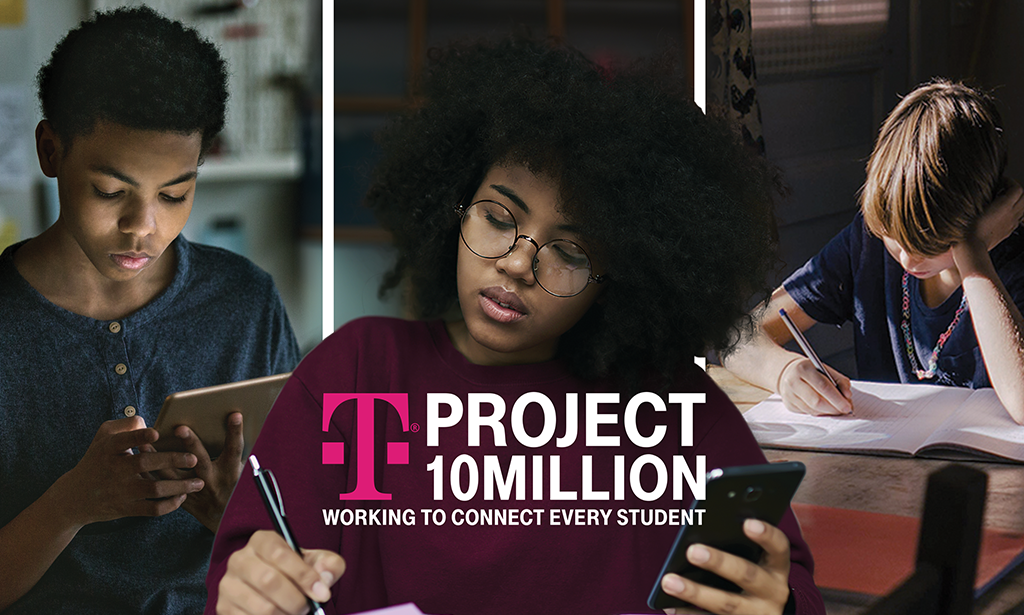 Oftentimes the schools, which are already strapped for resources, must find a way to provide internet access to students who need it in their homes. For the 2022–23 school year, this represents almost half of K–12 public schools providing access, according to the U.S. Department of Education's National Center for Education Statistics study (Technology section).
This homework gap has tremendous short- and long-term impacts: lower test scores, lower grades and limited opportunities after graduation.
To address this critical issue, T-Mobile's Project 10Million is helping to close the digital divide in education by offering free internet connectivity, mobile hotspots and low cost hardware to millions of eligible student households. Parents can easily apply for their child online. Students can qualify for Project 10Million through eligibility for the National School Lunch Program, as well as through participation in many government programs. 
It only takes five minutes to apply and you'll have it for five years.
Each student will receive 100GB of internet per year for five years, totally free. It's a free hotspot, with free shipping. No fees, costs, or annual re-certifications. With 100GBs of data, a student can:
Stream 140 hours of school videos
Attend 320 hours of online virtual learning
Spend 5,000 hours researching on the internet
Spend 200 hours on online college test preparation
"Education is the great leveler, but without internet access, kids will be left behind. T-Mobile has a big goal – to deliver connectivity to every child who needs it across the U.S. … with our historic Project 10Million commitment, we're going to help open A LOT of doors to opportunity that might have previously been closed," said T-Mobile CEO Mike Sievert. "… Big issues need big solutions, and that's exactly why we're not just launching but significantly enhancing Project 10Million and giving flexibility to educators so they can best address the unique needs of their students with plans that offer more data. As the supercharged Un-carrier, we now have the resources and network capacity to deliver reliable connectivity to students across the U.S. — and to tackle the critical homework gap and the schoolwork gap head-on!"
Students can qualify for Project 10Million through eligibility for the National School Lunch Program (NSLP), which also can be verified through participation in many government programs, including:
Supplemental Nutrition Assistance Program (SNAP)
Temporary Assistance for Needy Families (TANF)
Food Distribution Program on Indian Reservations (FDPIR)
Community Eligibility Provision (CEP)
Medicaid
Head Start
Foster youth, migrant homeless, or runaway youth.
Puerto Rico students are also eligible. Since all students in Puerto Rico are included in the NSLP, parents/guardians need to prove enrollment in a K-12 school in Puerto Rico by providing the student's report card from the school or their certificate of enrollment. The certificate of enrollment is emailed to parent/guardians from the Department of Education upon enrollment in school.
In addition to students, school administrators can apply for the program as well. Interested schools or school districts can fill out a program request form, found on this page (scroll down to "I'm a school administrator" button). Upon receiving your application, a T-Mobile education expert will contact you.
With more than 5.3 million students already connected, T-Mobile wants to sign up as many eligible families as possible this school year. Find more information about this program here: https://www.t-mobile.com/business/education/project-10-million.