We had a chance to sit down with Olu Ibrahim, Founder & CEO, Kids in Tech for Five Questions. Here they are:
1. Can you tell us a little bit about your journey as an entrepreneur, and what is the Kids in Tech mission?
I founded my nonprofit organization Kids in Tech back in 2016 out of Lowell, MA, to prepare disadvantaged kids, primarily low-income youth, for technology careers as our community continues to evolve into an innovation hub, following in Boston's footsteps.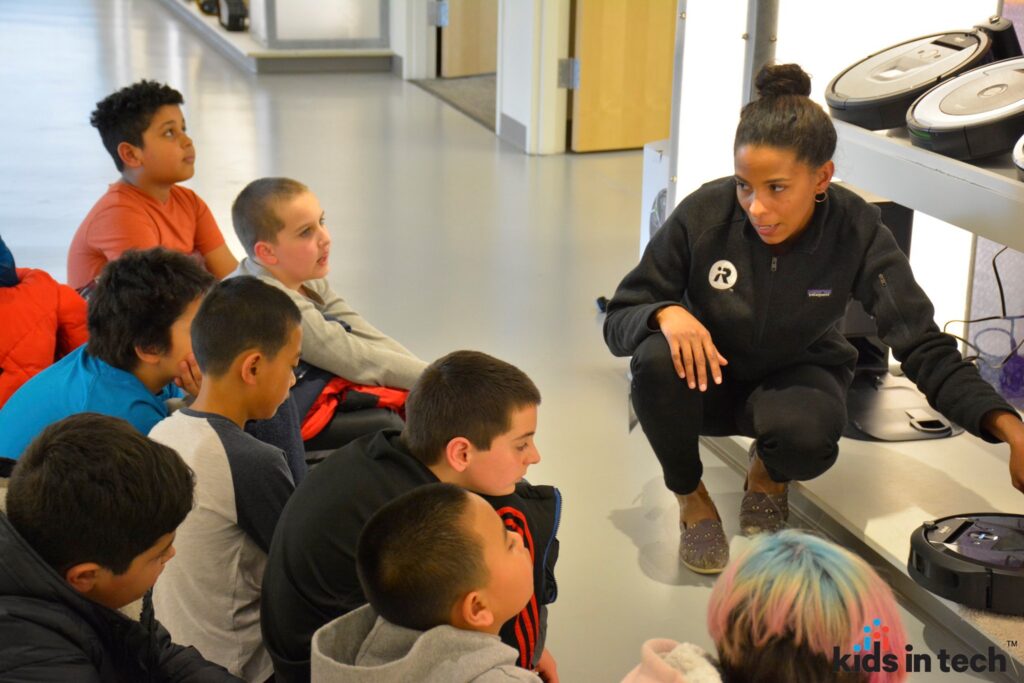 Prior to launch, I earned a master's degree in education and recognized our local lack of computer science and computational thinking skills, especially for underserved communities with major talent often kept under wraps. I knew I wanted to make a tangible impact in my career following graduation, and believed that a nonprofit organization was the most effective avenue to pursue my passions.
Our mission at Kids in Tech is to excite, educate, and empower children to acquire skills and confidence in technology through interactive after-school programs, both in-classroom and now online. Our programs focus on helping kids develop the necessary tech skills and aptitudes to participate in and be future leaders of the 21st-century innovation economy.
Our long-term vision is to unlock the untapped potential of young people in cities across the United States, and equip them with the skills and drive to not only staff, but one day lead, the American tech industry.
2. What is the impact of early STEM education here in the U.S.?
In the past, we've missed the mark in preparing the next generation for careers in STEM. Recent reporting confirms that young people simply are not graduating with the skills needed to succeed in a rapidly-evolving, technologically-driven workforce.
Decades of falling short in sparking excitement and passion, especially fostering interest in girls and the BIPOC community at large, has had an immense impact on the digital divide that currently faces our country. The socio-economic effects can be seen in everyday life. This exclusion persists because of costs related to gaining access to intranet or devices such as laptops or personal computers.
Research also shows that early exposure to STEM has positive impacts across the entire spectrum of learning. For example, early math knowledge not only predicts later math success, it also predicts later reading achievement, so the ends do in fact justify the means to accomplish these goals of equitable access.
The engagement of U.S. children in STEM education is imperative to fill an estimated 9 million jobs in the industry by 2022. Time can only tell how many STEM careers will be created in the years that follow. However, it's up to everyone to ensure that American students are prepared to compete for those spots and are armed with the education to pursue their dreams.
3. Why is diversity in STEM fields important?
Malcolm Forbes nailed it in my opinion when he described diversity as, "the art of thinking independently, together." It's really a beautiful thing, when you zoom out and recognize the power of different people coming together.
I've seen from first-hand experience that the best solutions most often arise from bringing diverse perspectives together in productive discussion. Yet, the statistics show a lack of diversity in the fields of science, technology, engineering, and mathematics (STEM), especially excluding women and people of color.
If we want to create the best version of this world that we are blessed to inhabit, then we must create inclusive working environments where people from various backgrounds are comfortable and invited to contribute to innovation-driven conversations. It's important we inspire the next generation behind us to truly see themselves as technologists, mathematicians, scientists and engineers—without judgment.
4. What does the future of STEM ideally look like from your perspective?
Equality starts with opportunity, and the inspiration to dream bigger. I see more people of color and women entering the field and rising through the ranks because they have wide open spaces to grow and chase their goals without fear of not "fitting the bill".
We are working towards a world where all children have the access, skills and confidence they need to thrive in the modern innovation economy. This begins with breaking down the expectations of what STEM leaders should look like, and more awareness that these stereotypes are inaccurate generalizations that can be eliminated if we can join arms together.
5. How do we as a global community make this vision a tangible reality?
Supporting and investing in organizations that are already on the front lines, uniting academia and the corporate world in a commitment to change, is a great place to start. Policy that also plays a significant role in breaking down structural barriers that are associated with these issues, too.