New Othot enrollment report outlines significant trends based on institution size, geography and use of data analysis for their fall 2020 admissions classes.
Colleges that used sophisticated AI and data analysis to build their fall admissions classes had, on average, larger classes than those that did not, according to a new report released this week by the education analytics firm Othot.
The national average enrollment decline for freshmen in the Fall 2020 classes was 13%. But that decline was limited to just 4.7% among schools that used AI and data tools to inform and build their most recent classes. Some schools using the Othot platform actually registered year-to-year class size increases.
"It was a challenging year across the board," Fred Weiss, Othot president and CEO said in the press release. "But I would be willing to wager that most schools would be giddy about seeing enrollment rates two or three times better than national averages. There were some very bright spots, schools such as Texas Tech and Florida Institute of Technology, that planned and executed and saw very strong growth, up more than 3 percent year over year, which is pretty amazing."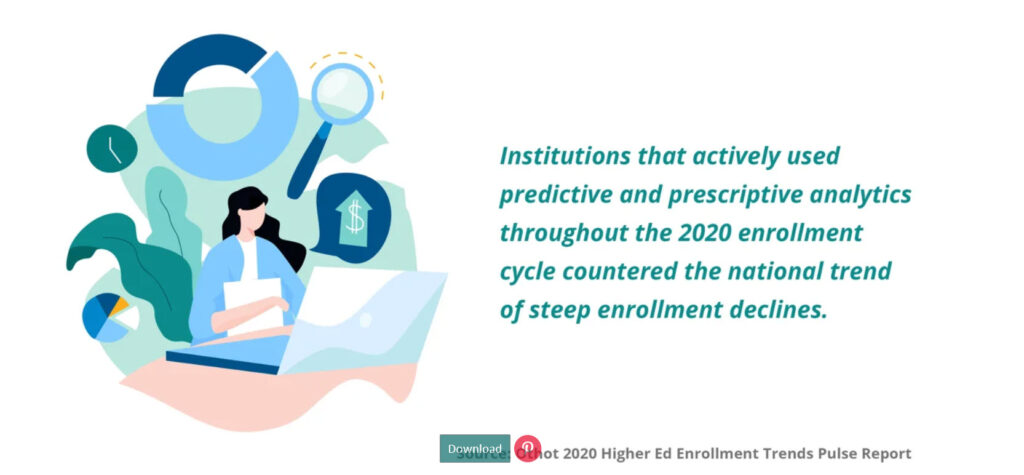 Not only did the new tools help build larger classes, they also reduced "summer melt," the report found. Melt is the difference between the number of students who accept admission to a school or even place a deposit but nonetheless do not enroll in the Fall, adding stability and predictability to budget and program planning.
The Othot report also highlighted the ability of schools to not just grow the size of their class but actually increase the earned tuition revenue per student in that class. Considering the challenges facing a number of institutions, being able to grow class size and per capita revenue could be a highly significant benefit.
Interestingly, Othot found "no significant difference" in the deposit rates or melt rates of Pell-eligible and non-Pell students. A dynamic that the release said may indicate, "that cost of attendance may not have been a major factor in COVID-19-related enrollment decisions."
The report also concluded that there was "no major differences between public and private institutions" in the successes of their Fall classes. At the same time, large institutions (schools with more than 2,000 first-year students) did outperform smaller institutions in their class yields, deposit rates and melt ratios. Schools in the Northeast region of the country also experienced, "the largest declines in enrollment and largest increases in summer melt," the report found.
Othot says they helped schools realize these larger classes and better revenue by using, "student-centered AI enrollment analytics" that allow school leaders to visualize and understand which students are most likely to enroll and well as the best ways to engage them throughout the recruitment and enrollment process.