For the past 6 years, the LearnPlatform team has worked with, beside, through and in the service of education organizations committed to continuously improving the safety, equity, cost-efficiency and effectiveness of their education technology resources.
As a research-driven, for-benefit organization with a mission to expand equitable access for all students to the teaching and technology that works best for them, we are constantly investing — along with the organizations, partners and edtech providers serving millions of students — in systematic, sustained improvement for all involved, especially the traditionally underserved.
Along the way, we've learned a tremendous amount from the organizations we serve, including what leads to the best results.
And, in this article, I'm going to give away the "secret sauce." Why? Because it's important. The data we have analyzed over the year shows that digital learning equity gaps since COVID have exacerbated the pre-existing disparities for students across the country.
So, if you're a local or state education leader who has ever thought of the term "Wild West" when you think of education technology… keep reading.
With districts accessing a greater number of digital learning tools ("edtech") –around 1,400 edtech tools every month–no one should be surprised when school boards, superintendents, policymakers, teachers, parents and others are overwhelmed. This is not conducive to effective teaching and learning.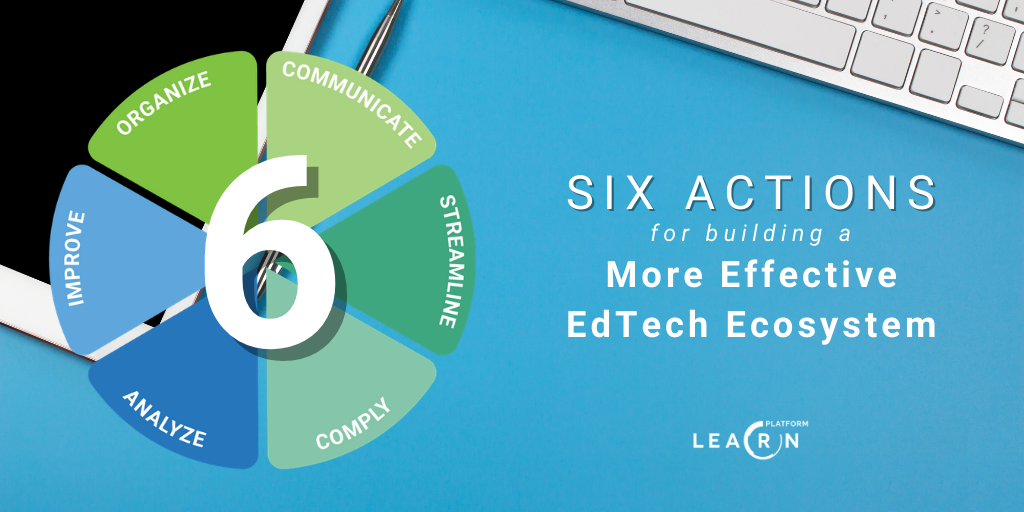 All of the 6 actions I am about to share are interconnected and are essential to building an ecosystem that not only supports, but also encourages continuous improvement. It's not as simple as eliminating ineffective tools or practices, but rather about understanding what's working in your unique environment — identifying what's not working quickly — and adjusting to ensure your investments of effort, resources and expertise serve, support and advance your students, educators and communities. We have found that the hard work — determining why something is working well and why something else is not, leading change that improves practices to get better results — is best done by educators in the communities equipped with structured information and systems for continuous improvement (rather than outside "experts," a "silver bullet," or the latest big visible initiative).
And so, here are 6 coordinated actions every education organization must take to ensure a safe, equitable, and financially, instructionally, and operationally effective edtech ecosystem.
Get Organized
Organizing all your education technology resources and related support information (how-to guides, clear guidelines for use, links to access, etc.) equips students, teachers, parents and administrators to know what they have access to, could/should use, and self-direct for their own needs. Unified contract management for administrators with an integrated searchable edtech resource library with statuses and related information for teachers, parents and students is the first step in modernizing "the Wild West."
Communicate & Share Experiences
Ensuring 1-to-1, 1-to-many, and many-to-1 communication is the life-blood of driving teaching and learning at scale. For effective edtech ecosystems, this includes clear and consistent status updates, publicly visible and understandable details for parents/families, and the all-important educator voice and choice through rapid feedback and pilots.
Streamline Processes
Making core processes consistent, transparent and efficient is the most direct path to reduce frustration, receive better prices, increase return on investment, and mitigate risks of persistent challenges, such as cyber-attacks and privacy breaches. Streamlining contract management, product vetting, request and approval workflows, and procurement will save time, energy, a lot of headaches, and activate more informed decision-making.
Take Charge of Compliance
While some may see regulation as a burden, data privacy, accessibility, data security, cybersecurity, and financial reporting required by federal and state laws and regulations, as well as each organization's individual policies, are for safety and well-being. Effective edtech ecosystems ensure compliance as an additive value to its goals of equity, cost-efficiency and safety, not simply a bureaucratic challenge to overcome.
Analyze What's Happening Quickly
Understanding the breadth of edtech tools used, performing periodic audits of your edtech ecosystem, and/or running regular rapid-cycle edtech evaluations to know what's used, how often, for whom it's working (or not) and identify the associated costs/savings opportunities will drive more effective instruction, operations and finances. These types of analyses should not be one-and-done efforts –and are useless if they take too long and require lots of added energy — but rather should be intentional, routine, and aligned with your strategic initiatives.
For an interesting, and sobering, discussion of the lack of timely research on the effectiveness of education technology for remote learning, read this March 1, 2021 article by Jill Barshay in The Hechinger Report. 
Make Continuous Improvement the Goal
Organizations that prioritize ongoing improvement through their leadership, change management and communication succeed. Defining, refining and communicating the continuous improvement steps aligned with your goals, structures, unique community needs and characteristics, in combination with the 5 steps above, is a critical part of the process.
As with anything of value, these six actions can be easier to write than to activate, but, as the last twelve months have shown us, education technology is here to stay and is an essential component of teaching and learning today. Just as education technology will continue to evolve, so must our infrastructure for ensuring it is working for our students and teachers. Getting organized is often the easiest place to start, but ultimately it's a bit like Trivial Pursuit: getting each piece feels good, but you need all 6 pieces to succeed.
Karl Rectanus is the CEO and Cofounder of LearnPlatform, an education technology company founded in 2014 with the mission to expand equitable access for all students and teachers to education technology that works. LearnPlatform's comprehensive edtech effectiveness system is used by local, regional and state education agencies within the United States to continuously improve the safety, equity and effectiveness of their education technology.