By Derek Newton
Reposted from Forbes, with permission.
Odds are good that at some point in your educational journey a teacher told you there was no such thing as a stupid question. Whether that is true or not, the question "is college worth it?" is right on the line.
The answer is yes.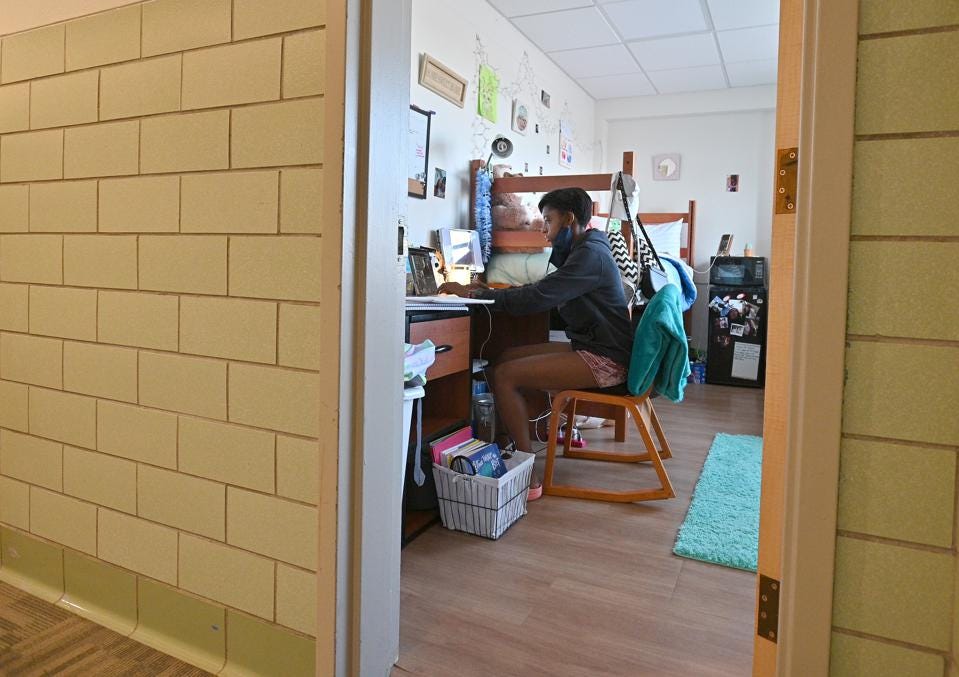 In answering, we'd want to clarify that a college degree is worth it – going to college and not getting a degree rarely is. Then we'd need to be clear that not all college degrees deliver stellar rewards. Degrees from for-profit colleges and many for-profit career schools notoriously and reliably do not confer good financial rewards, at least not reliably well or reliably often.
And we'd also need the caveat that the "worth" of college should never be measured only in dollars. College is about way more than dollars in and dollars out. But even with that narrow standard, the answer is still yes.
This question and its clear answer have come up again because of reporting by the non-profit Hechinger Report, relaying the results of a study this year from some smart folks at the U.S. Census Bureau and the University of Michigan. Those smart folks found that the financial benefits of earning a degree from a public flagship university were being underestimated by about 10%.
Again, those are averages for earnings across all colleges and all areas of study. Which means they factor in the bad schools, the for-profit online and career schools that don't deliver much post-graduation value. It also counts the majors that never make much top-end money, careers such as education, unfortunately. That means that the earnings numbers are unquestionably higher if you go to a public school or, even better, one of those flagship publics. They are higher if you get a degree in a high-wage field or graduate from an elite private college. In other words, that $2.8 million average in lifetime earning is probably weighted down significantly.
But even with the average number, earning a college degree is like hitting the triple-7 in Las Vegas, only far more likely. If full-freight, fancy private school tuition is $40,000 a year, where else can you legally turn $160,000 into $2.8 million? And considering that the question was about one of those upper-crusty private establishments, the 2.8 figure is likely a floor, not a ceiling.
Even if you graduate with $100,000 in student debt, which is far and away the exception for undergraduate studies, even then – $2.8 million, or $1.2 million more than you would have earned otherwise. Show me another risk-free investment with that kind of return.
Flagships are what we think of as the big state schools – Penn State, University of Florida, University of Texas, Austin and so on. And those schools have usually provided an earnings bonus, especially when compared with their same-state public school cousins. That bump may be even larger than we thought. Even when the states themselves were doing the math, they were off, not giving a big enough boost to their premier flagships.
Ten percent may not feel like a big deal, but spread out over a lifetime of earnings, it can be hundreds of thousands of dollars – enough to buy a house or send the grandkids to a fancy private college. That's big.
It's probably even bigger than even the 10% because the Hechinger reporting rightly notes that many of the models that calculate future wage earnings of college graduates are actually just estimates and often undercount the real numbers. That means that when you see various websites and researchers say what a college degree returns, they are probably under-estimating. Even the official government ones skew low.
So, what is a college degree worth?
Quite a bit, actually.
As referenced in the Hechinger article, some of the best and most in-depth research we have on the question comes from Georgetown University's Center on Education and the Workforce. The smart folks over there say that, as of last year, the average graduate from college with a four-year bachelor's degree will earn some $2.8 million over their lifetime. The average high school graduate with no further education will make an average of $1.6 million. Quick math gets you, therefore, that a four-year college degree is worth a cool $1.2 million in lifetime earnings. Stay in college and earn a Masters and your wage premium over high school grows to $1.6 million.
Still, people keep asking the question although the answer hasn't changed in years – maybe ever. Since anyone started counting, college graduates have not only made more money, they have jobs more often.
Just today, Paul Fain's excellent newsletter "The Job" reported, "Employers plan to hire almost 15% more college graduates from the class of 2023 than they did from the previous class, according to new survey findings from the National Association of Colleges and Employers. The potential increase would follow a huge surge in hiring last year."
So, if someone you know is curious as to the value of college, whether it's "worth it," the answer is even more simple than the question – only if they care about having a job or making more money.