(KAYSVILLE, UT) July 14, 2023 – Reading Horizons has announced the availability of its newest edition of Reading Horizons Discovery®, a foundational literacy program that is tech-enabled and uses the company's proven, effective instructional method aligned with the science of reading. Reading Horizons Discovery® is evidence-based and designed in collaboration with classroom teachers. The program includes in-depth educator support from onboarding through implementation, with embedded coaching and dynamic grouping for differentiation based on continual real-time assessment data.
The new Reading Horizons Discovery® includes a purposeful lineup of new and expanded features and functions, all developed to build momentum toward reading proficiency. The result is science of reading-based instruction that is easier to teach, simpler to track, and more successful in transforming reading proficiency.
Smart New Features. Powerful New Instruction.
Leading the lineup of new features in Reading Horizons Discovery® are:
● Sound Wall Instruction Connected Directly to Phonics Lessons begins at the kindergarten level to sync phoneme instruction with alphabet instruction, leading to blending sounds and building words.
● More Differentiated Instruction and Practice Opportunities lead to faster mastery. After each whole group lesson, a quick digital Skill Check automatically provides data to determine differentiated small groups and centers for additional instruction and practice, with an immediate visual dashboard display indicating students' proficiency in key concepts. Students' devices automatically sync with coordinating, gamified assessment and practice, reinforcing the day's skill and monitoring progress.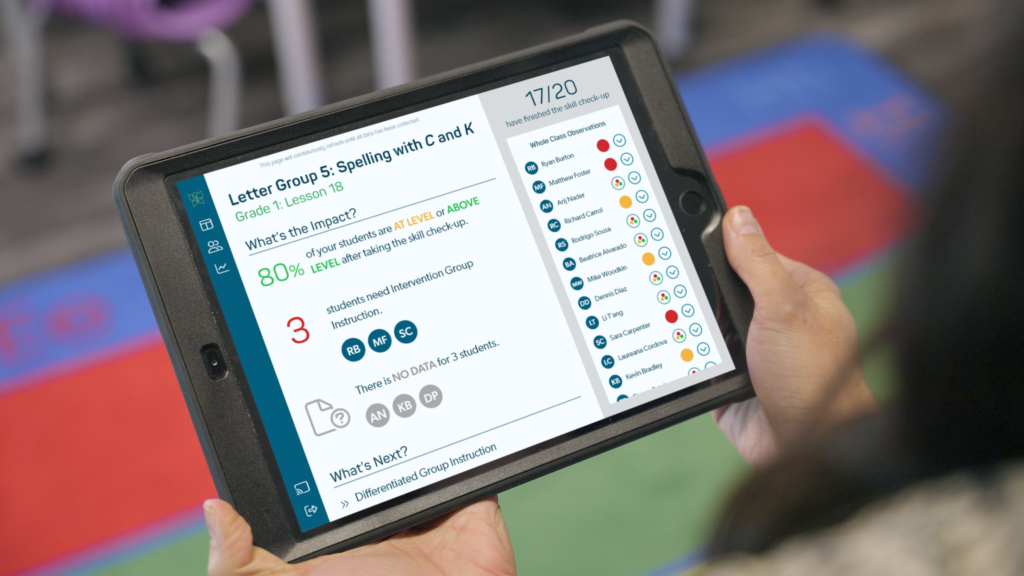 ● More Decodable Texts all aligned directly with the program's scope and sequence will save teachers time and save schools money while making sure students get the practice they need each step of the way.
● Grade-Level Specific Content for phonemic awareness, phonics, and spelling is designed for teaching at a developmentally appropriate pace and tightly aligned to standards and the science of reading. This streamlines planning and lesson delivery for teachers.
Along with the new programmatic enhancements, the latest version includes on-demand professional learning through short training videos accompanying each lesson. Student progress is tracked automatically in real time, and class data is at teachers' fingertips through the digital dashboard. It includes pacing recommendations to support instructional sequences and track progress against completion goals. All-inclusive phonological awareness, decoding and encoding, and sight recognition lessons are in one place for consistent, impactful instructional delivery.
Shantell Berrett Blake, Vice President of Content Development at Reading Horizons, noted, "The newest edition of Reading Horizons Discovery® helps bridge research to practice and provides teachers with everything they need to increase their knowledge and skills to implement science-based literacy foundational instruction in their classrooms. Resources and support are readily available to instructors and administrators right when they need it. Our purpose is to partner with educators to ensure teacher and student success."
Elizabeth Greene, a first-grade teacher at Springmore Elementary School in Cleveland County, North Carolina, noted, "I am able to take the scripted lessons and use them in my classroom and ensure success for all of my students."
Schedule a call to learn more about the new Reading Horizons Discovery®.
About Reading Horizons
Reading Horizons empowers educators to eradicate illiteracy with effective, tech-enabled foundational reading instruction that helps all students achieve reading proficiency. For 40 years, Reading Horizons has continuously aligned its simple instructional method with advancements in the science of reading. We have supported educators and students with ongoing, synergistic partnerships, serving as a trusted, innovative foundational literacy partner. Adopted by over 50,000 educators, our proven method for teaching foundational literacy prevents and remediates reading difficulties, supporting our mission to ensure students reach reading proficiency by the end of third grade. Reading momentum begins at Reading Horizons.
For Additional Information:
Ed Major
Product Marketing Manager
Reading Horizons
[email protected]