You may not have heard of the curb-cut effect.
That's what happens when something designed for a unique audience – usually a type of accommodation or accessibility provision – ends up benefiting everyone.
It's called the curb-cut effect because of the small ramps that level the sidewalk to the street. Originally required to accommodate those in wheelchairs, these curb cutouts now serve families with strollers and delivery drivers, anyone who cannot comfortably navigate the step of a curb. The curb-cut effect usually takes a few years to materialize – for us to realize that the thing we did for a few has become a good for many more.
Over the past few years, right under our noses, a curb-cut has happened in education.
Originally built and used to assist those with vision or reading challenges, text-to-speech technology has shifted from accessibility to basic pedagogy.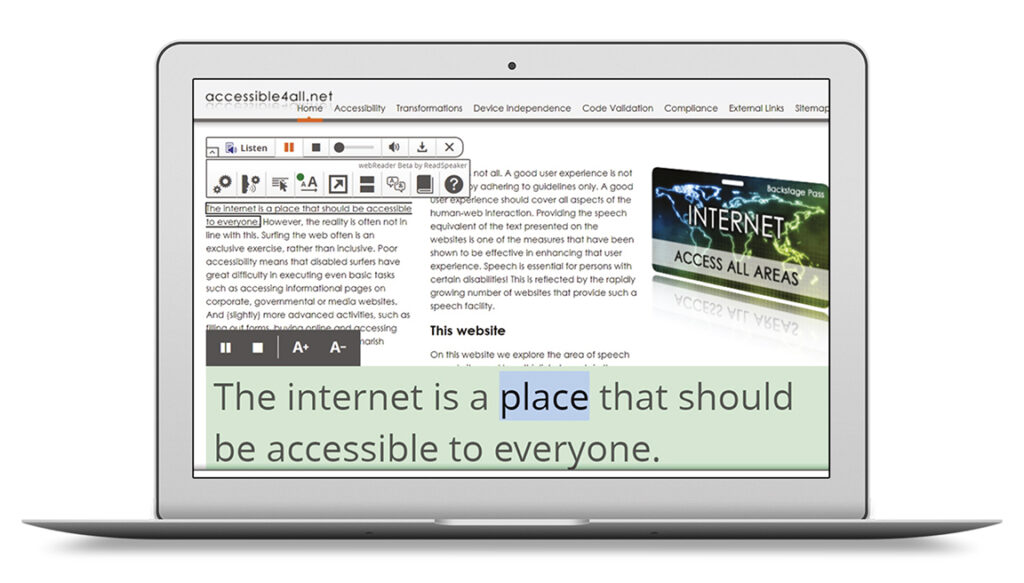 Text-to-speech is now nearly ubiquitous. Today, audio enhancement is embedded in learning management systems like Moodle, Canvas, D2L or Blackboard. It comes with digital textbooks and newspapers and classroom quizzes. It's incredibly easy to add to any written material and include in any lesson. It should be absolutely everywhere. But it's at least mostly everywhere. Because it is, millions of students can now access learning materials that were previously opaque, confusing or even simply inaccessible. For its original purpose, that's very good.
But over the past few years, we've seen text-to-speech tools like ReadSpeaker change in how they are used by teachers and students alike.
In one example, we've seen students who can read use text-to-speech tools to listen to required reading or other assignments instead of reading them. With improvements in the general technology and its pervasiveness, students are also converting text to speech, downloading the audio and taking it with them, just as they would with entertainment items such as music or podcasts.
Giving students opportunities to choose how they reach and absorb their learning is, nearly without exception, a boon for education.
Likewise, having access to text-to-speech nearly everywhere, teachers have found that they now have multiple ways to assign academic work, and ways to reach new students differently. Just as we've celebrated the ability for teachers to bring video or Internet or even virtual reality tools into their classrooms, text-to-speech has been quietly broadening the learning experience for years.
Allowing, even assigning, work to be heard as well as read is now a fairly standard practice for teachers. Better yet, giving students learning mode options is standard teaching practice. And again, that's good.
Reasonable people may disagree about learning styles. But I maintain that if some students feel more comfortable listening, feel more engaged by what they hear instead of what they read, there's no reason not to let them learn that way.
And we know, for example, that the more ways students can experience information, the better. Showing a student, telling them, letting them engage it in play, as audio, in video – it all improves retention and leads to mastery. As we understand that more, text-to-speech will become even more indispensable than it is already.
We're also starting to see text-to-speech technologies used in creative ways to access and equalize learning – in ways no early designer could have imagined. That's a trend we expect to continue, even accelerate.
A caveat, not all text-to-speech tools are the same. Some are quite basic and limiting. Others, the leaders in the space, are dynamic. The better ones allow listeners to change the voice of the speaker, the speed of speech, even the accents. Those options and opportunities open up source material in great ways that others don't.
As those better tools gain traction and universality the impact of the text-to-speech curb-cut will deepen.
Not only will that deepening be good in its own right, it will give new incentives for investing even more in the technologies that expand or create access. In that way, curb-cut designs and interventions are a double-win, serving scores of today's learners as well as those in the future.
If our goal is to reach as many students as we can, in the best and most efficient ways possible, we need curb-cuts and time to let them find new and exciting uses, which expands opportunities for everyone. Just as we've done with text-to-speech technology.
Curb-cuts work – better and for longer and in ways we didn't think of early on. When they happen in education, they are worth recognizing, highlighting, even celebrating.
Amy Foxwell is the marketing director for North America and EMEA at ReadSpeaker, which develops voice technology and custom voices in K-12 and higher education, and for major brands like Sonos and Spotify. ReadSpeaker offers more than 200 digital voices in over 50 languages.