Transact Campus, "Transact," the award-winning leader in innovative mobile credential and payment solutions for a connected campus, announced that it has added three senior-level roles to its executive leadership team. David Shaw joins as Chief Information Security Officer. Anusha Ayyar was appointed as the company's Senior Vice President, Transformation Office, and Chris Setcos as Senior Vice President, Partnerships, M&A and Corporate Strategy.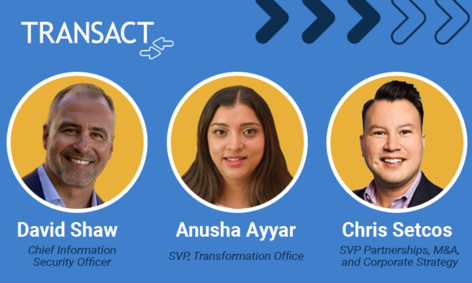 David Shaw joins from UCLA where he served as Chief Information Security Officer, leading a team covering areas of Identity & Access Management, Regulatory Compliance, Incident Response, Education & Awareness and coordinated campus-wide cybersecurity technologies. Prior to that, he served as CISO with various organizations including San Manuel Band of Mission Indians, USC, Purdue, and State of Ohio.
Simultaneously, Transact welcomes Anusha Ayyar. In her new role, she will be focused on leading Transact on their Transformation journey, driving strategic initiatives for the organization, and launching program management discipline and oversight. Prior to Transact, Anusha served in various strategic roles at CoreLogic, including Product, Strategic Initiatives and BI/Analytics Executive; Senior Leader, Strategic Initiatives; and Director, Vendor Risk and Compliance. She began her career at KPMG and Deloitte Consulting.
In addition to Shaw and Ayyar, Chris Setcos joins Transact to oversee M&A and existing partnerships while also focusing on expanding Transact's network of partners. He will work closely with the strategic alliance team, general managers, and sales leaders to build on relationships. Setcos joins from TouchNet (Global Payments), where he was Head of Business Development, Partnerships, and International Payments. Prior to TouchNet, he had similar roles with Western Union, Tapingo (GrubHub) and Higher One (now Transact Campus).
"We're excited to have David, Anusha, and Chris join Transact," said Langer. "They bring a wealth of experience and expertise to their respective teams' instrumental roles in our growth and innovation efforts. As we continue to embrace expansion, strengthening the Transact team allows universities and our world class partners to harness the benefits of a connected campus."
Source: Businesswire