The Score Podcast is scheduled to release its first two episodes on October 20, 2021, the same day as International Day of Action Against Contract Cheating. The inaugural six-part series features celebrated education reporter Kathryn Baron as the host. She will interview educators, researchers, and other journalists, all of whom are experts on the issue of integrity in academics and professional licensure. The first two episodes feature: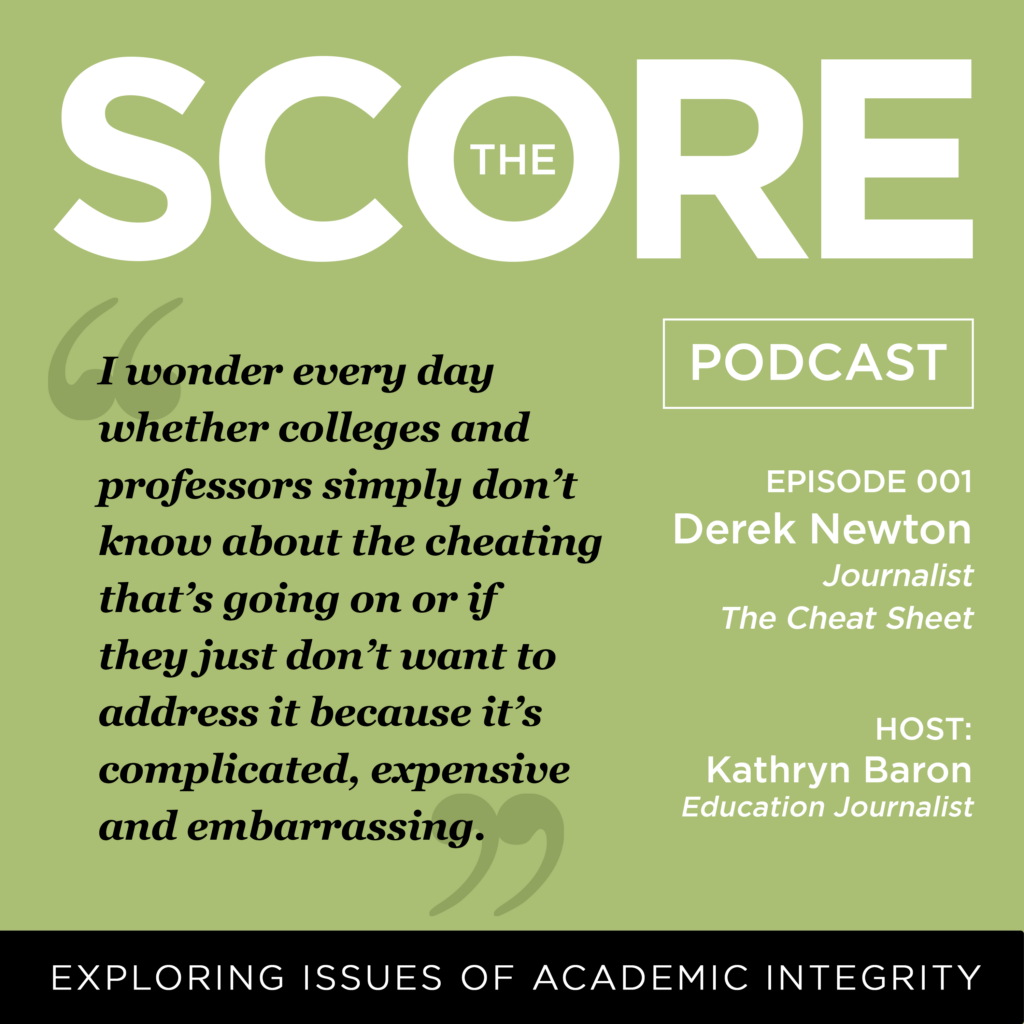 Episode 001 with Derek Newton, Journalist of The Cheat Sheet discusses the wide range of tactics and how much money is involved in cheating. He notes, "I wonder everyday whether colleges and professors simply don't know about the cheating that's going on or if they just don't want to address it because it's complicated, expensive and embarrassing."
Episode 002 with Jarret Dyer, former president of the NCTA, test center administrator and co-chair of Academic Integrity at College of DuPage says, "More than half the students admitted cheating on tests." In his episode, he discusses who is most likely to cheat and how students feel about it. And shares an interesting story of how one student evaded a testing proctor.
The next few episodes will feature:
Episode 003 with Dr. Tricia Bertram Gallant, director of academic integrity at UC San Diego and Board Emeritus of the International Center for Academic Integrity. Co-Editor of the upcoming Jossey-Bass book, Cheating Academic Integrity: Lessons from 30 Years of Research (March 2022), and co-editor of an upcoming special issue of the Journal of College & Character (February 2022).

Episode 004 with Eren Bilen a visiting Assistant Professor of Data Analytics at Dickinson College and Alexander Matros Professor of Economics at The University of South Carolina discuss their research published in September 2020 about cheating during the pandemic and their experience with cheating in online chess communities over the past two decades.
Read more about each episode, see show notes or listen in at PodcastTheScore.com. Subscribe to The Score on most popular podcasting platforms including Apple, Spotify, and Google or The Score's RSS Feed. Follow The Score on Twitter and Instagram with the name @podcastTheScore.