By Derek Newton
Reposted from Forbes, with permission.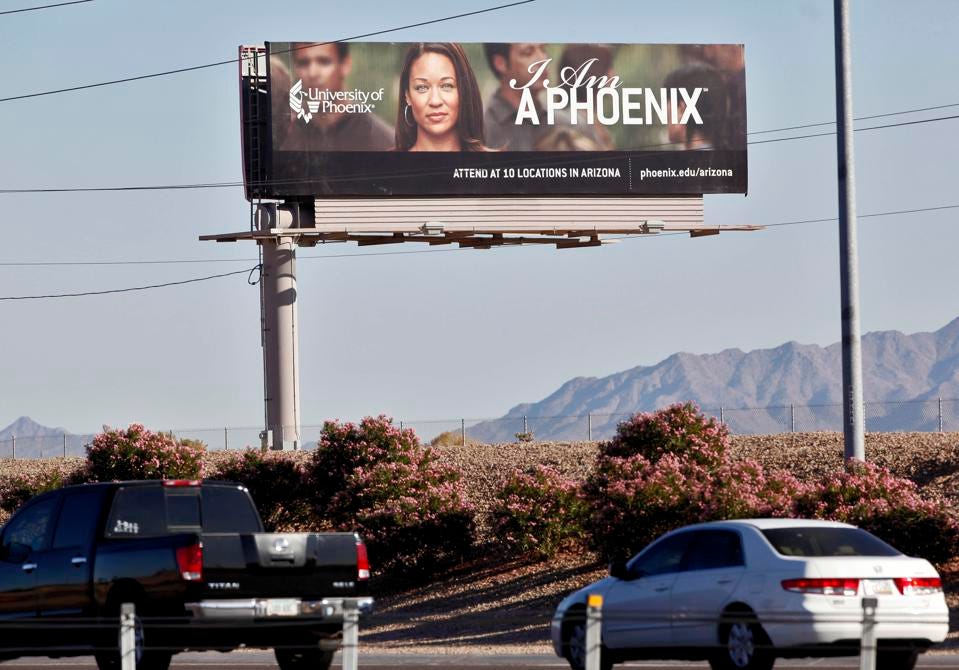 News started to leak this past week that the public, state-run University of Arkansas system was in talks to buy much maligned for-profit, online school, University of Phoenix.
It's far from a sure thing that the acquisition will happen. Even if details are hammered out, approval from regulators and other authorities is not certain. The Biden administration, for example, could reasonably block the transfer or approve it, and for the same reasons.
But if a deal comes together and wins regulatory blessings, it won't be the first time a large public school has scooped up a for-profit.
Purdue University bought for-profit Kaplan University and the University of Arizona bought for-profit Ashford University. In general, these have been both heavily criticized and reputationally damaging. In both deals, the acquisition has essentially allowed the owners and operators of the for-profit colleges to keep making profit – thanks to highly unusual deals in which the public school and the investor school operators continue to share tuition income, albeit under the far more palatable banners of Purdue and Arizona.
There is plenty to hate about these deals. More than plenty, actually.
Although, if Arkansas ends up buying Phoenix, I will see the deal as good news.
An acquisition will be good news to my ears because it will likely mean the end of the University of Phoenix and, by extension, the official end of the road for exploitive, for-profit education providers. Closing University of Phoenix will be symbolic, true. But it's a pretty massive symbol.
For years, University of Phoenix was the largest online, for-profit school in the country, probably the world. It was making fortune stacked on fortune for its investors, at one point enrolling more than 470,000 students with a revenue of nearly $5 billion – much of it coming from taxpayers. Today, its enrollment is about 83,000 – just 17% of its peak.
This isn't the University of Phoenix's fault. Over little more than a decade, enrollments at for-profit colleges have evaporated. Since 2010, 40% of all for-profit colleges have closed as enrollments dropped more than 50%. Though, for-profits did see a roughly 5% increase in enrollments during the pandemic – likely fueled by increasing at-home time and massive direct advertising. Still, even putting aside the waterfall of fines, sanctions, investigations and inquires that have plagued the for-profit industry, it's been a bad dozen years to be a for-profit college.
The rapidly declining fortunes of for-profits triggered the Kaplan and Ashford sales and spurred other investor-run schools into dodgy arrangements which allow them to pretend to be non-profit schools even though their managers and investors don't change.
But before and throughout this decline, the University of Phoenix has been the undisputed bellwether of the business model – drawing fawning praise from pundits, sponsoring football stadiums and more or less defying the collapsing market around it. That it may be gobbled up and closed up – at least as a brand – is big. That it's potentially being consumed by a public school is poetic.
If the Arkansas/Phoenix deal allows the school to essentially stay in business under a cleaner nameplate – as the other deals have – that will be tragic. And cynical. And expensive and bad for students and so on. Putting rotten apples in a barrel with good apples won't make them good – it will only poison the entire lot.
come off the buildings it adorns, seeing its website disappear, will feel like a victory. That the one time titan of for-profit-ism in education, the brave new model in massive, profit-driven online education, is gone – will be big. Watching the University of Phoenix disappear like a mirage in the desert will be something to behold.
With it gone and more for-profit colleges closing all the time, higher education may finally be entering the post-profit era – at least officially. That would be nice.
But as the for-profit schools faltered, other profit-seeking businesses have woven themselves into the fabric of American higher education. And, as mentioned, others are just hiding. There is still work to be done.
But let the debate begin, and continue, as to whether higher education's misplaced dalliances with online, investor-run, for-profit colleges were beneficial. Some will argue that their existence created market pressures that forced "traditional" colleges to improve, become more efficient and embrace new technology. Maybe.
But if that's the case, it's a curious occurrence that tuition prices continue to go up – that it seems that whatever efficiency and cost pressures the for-profits exerted, they did not work. Meanwhile, what is clear – as punctuated by the potential University of Phoenix buy out – is that once the "traditional" colleges did get in the game, it was over.